For as long as anyone can remember, Teddy Bears have been a part of all of our lives.
Most of us had a Teddy Bear growing up and when we think back now to some of the times we spent with our favourite Teddy Bears, it can awaken many disjointed memories in us.
Some of us can't remember of course, that we used to drag around this Teddy Bear from place to place, from the time we could walk. Some of us remember who gave that Teddy Bear to us, and some of us just remember holding it tight not knowing where this Cuddly Bear came from.
But did you know that the Teddy Bears we are all so familiar with, really only became a thing in the early 20th Century.
Here's an interesting Fact, Teddy Bears were named so after the Nickname given to the 26th President of the United States, Theodore 'Teddy' Roosevelt Jr, when during a hunting incident, Roosevelt refused to shoot a tied up Bear, Morris Michtom Saw a political Cartoon in the Washington Post and created a tiny soft Bear and sent it to Roosevelt who gave him permission to use his name.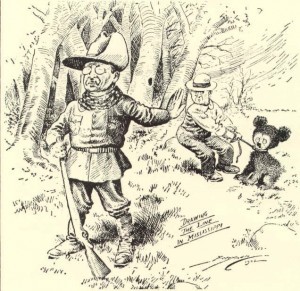 Michtom founded a company and began mass producing these Bears which many companies have went on to replicate in some shape or form
You can build your own Teddy Bear in store at Teddy and Co in Galway, come visit us or order from our Teddy Mountain Range which come with the stuffing, so you can stuff your own Teddy Bear.
There's lots of costumes to choose from, get a passport to help your Teddy through immigration and all the Teddy Mountain range come with an adoption certificate stamped by Teddy and Co